×
Boost Your Afternoon with Energy Bites
Boost Your Afternoon with Energy Bites
(Culinary.net) When you need a quick pick-me-up during the workday to fight off the post-lunch slump, a protein-powered burst of energy may just do the trick. A perfect on-the-go snack solution with no baking required, these Peanut Butter Chocolate Energy Bites only take 15 minutes to prepare a batch that can last the whole week.
Packed with protein and easily made from ingredients you may already have on-hand, these quick and easy bites are perfect for storing in the fridge for when you need a delicious, healthy snack. You can also easily substitute ingredients based on what you have in the pantry or to fit your dietary preferences.
Find more healthy snack ideas at Culinary.net.
Watch video to see how to make this recipe!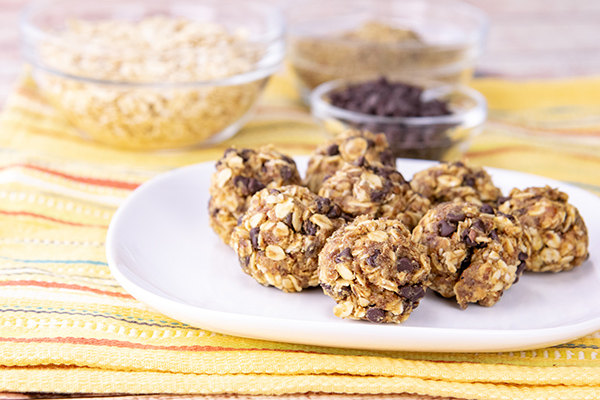 Peanut Butter Chocolate Energy Bites
Prep time: 5 minutes
Servings: 8 (3 bites each)
1          cup rolled oats
1/2       cup ground flaxseed
1/2       cup nut butter of choice
1/3       cup maple syrup
1/2       cup mini chocolate chips or raw cacao nibs
In large mixing bowl, combine rolled oats, flaxseed, nut butter, syrup and chocolate chips; mix well using spoon or mixer.
Using hands, roll mixture into balls, approximately 1-inch each. Place balls on cookie sheet and chill in refrigerator until firm.
Note: Balls can be stored in airtight container in refrigerator up to 1 week.
SOURCE:
Culinary.net