×
Make Mornings a Breeze with Time-Saving Breakfasts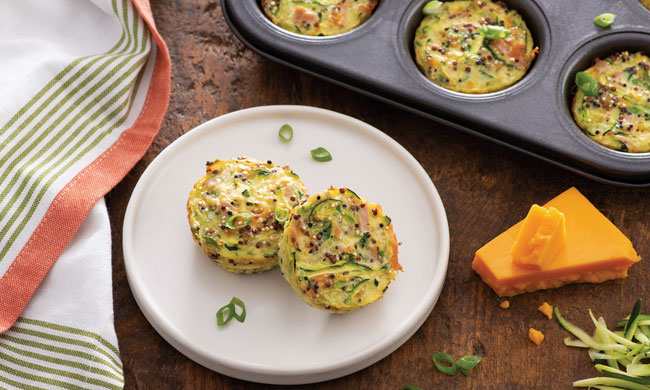 (Family Features) Mornings can be hectic enough with wake-up calls, preparing for work, getting the kids ready and so many other daily tasks. Add in the need (or desire, at least) for a nutritious breakfast, and starting a new day can feel downright exhausting.
Make your mornings easier with delicious, better-for-you meals you can make ahead of time using simple ingredients like Success Boil-in-Bag Tri-Color Quinoa, which offers a heat-safe, BPA-free and FDA-approved bag and is easily prepared in just 10 minutes. You don't have to know how to pronounce quinoa to enjoy its light, nutty flavor packed with protein and all nine essential amino acids.
As a good source of fiber, it's a perfect solution composed of a medley of red, black and white quinoa that can make these Ham, Cheese and Zucchini Breakfast Cups a breeze. They're an ideal on-the-go solution for weekday breakfast bites that fit your busy schedule.
Cook up a batch as part of your Sunday meal prep and enjoy a week's worth of tasty, simple cups for the entire family. Once the combination of green onions, cheddar, ham, quinoa and more have been cooked and cooled, they can be refrigerated for up to 1 week.
For a creamier, fruity, dairy-free option, these Quinoa Overnight Oats make for a satisfying breakfast you can grab from the fridge and take to the office. Loaded with whole grains, bananas, blueberries and pomegranate, they'll provide the energy you need to get through the day while saving time in the morning.
These tasty treats can also last up to 1 week in the refrigerator, but remember to wait to add any crunchy toppings, honey or syrup until you're ready to enjoy so those favorite ingredients stay fresh longer. Another pro tip: Once you're done preparing your sweet, nutritious breakfast for the week ahead, divide evenly into four resealable to-go containers to make weekday mornings as easy as possible.
To find more weekday morning solutions using easy-to-make whole grains, visit
SuccessRice.com
.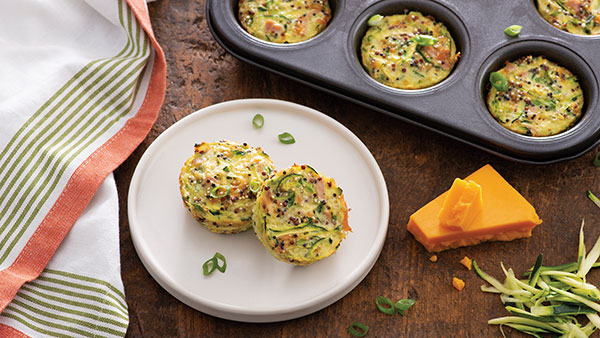 Prep time: 15 minutes
Cook time: 25 minutes
Servings: 12
1 bag Success Tri-Color Quinoa
nonstick cooking spray
1 cup shredded cheddar cheese
1 cup shredded zucchini
1/2 cup diced ham
2 eggs
1/4 cup egg white
1/4 cup sliced green onion
1/2 teaspoon salt
1/4 teaspoon black pepper
Prepare quinoa according to package directions. Preheat oven to 350 F.
Coat 12-cup muffin tin with nonstick cooking spray.
In large bowl, combine shredded cheddar cheese, shredded zucchini, diced ham, eggs, egg white, sliced green onion, salt and black pepper. Mix well. Spoon batter into prepared muffin tin.
Bake 25 minutes. Cool 5 minutes then remove to wire rack to cool completely.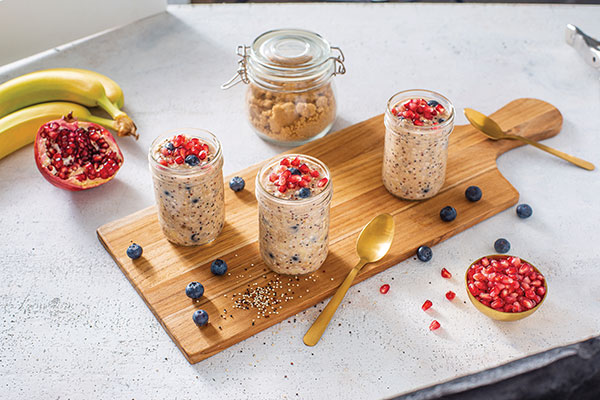 Prep time: 15 minutes
Cook time: 10 minutes
Servings: 4
1 bag Success Tri-Color Quinoa
2 cups almond milk
1 cup quick-rolled oats
2 bananas, mashed
1/2 teaspoon ground cinnamon
1 cup fresh blueberries
1/2 cup pomegranate seeds
Prepare quinoa according to package directions. Let cool completely.
In large bowl, combine almond milk, oats, bananas and cinnamon. Stir in quinoa and blueberries.
Cover and refrigerate overnight. Divide among four serving bowls and garnish with pomegranate seeds.
Tips: For added sweetness, drizzle with honey, maple syrup or agave syrup, to taste. For a grab-and-go breakfast, combine overnight oats mixture and divide in resealable, single-serving jars or containers. Seal and refrigerate overnight.
SOURCE:
Success Rice